BASS THUMPER
Model: SBX-8815200BTL
The Bass Thumper affords both superior sound quality and the ability to record and share home performances with ease. QFX's Bass Thumper raises the bar for home entertainment with two-mic karaoke mode, four fully customizable DJ effects, six brilliant LED-lit speakers, and two USB jacks to read and record sharable Mp3 files.
Stage fright? With line-in and AUX audio jacks, as well as an FM tuner and remote control, the Bass Thumper encourages users to kick back and fall in love with your favorite songs all over again.
And for the bass-hound in your life, QFX has you covered with dual booming 15" subwoofers, dual 4" woofers, dual 1" tweeters, and the latest in raw bass-boosting power, X-Drive.
Volume boosting technique,:
Volume boosting technique Video
BASS THUMPER
PREMIUM HI-FI AUDIO SYSTEM
DJ AND LIGHTING EFFECT
Powerful Amplifier with X Drive Mode
Big Size LED Display
Brilliant RGB LED Lighting Effect
USB Recording
Remote Control
Compact Stereo Speaker
Hi-Fi Class Bluetooth
FM Tuner
DJ PRO Effect
Scratch Mode
Reverb Mode
Beat Box Mode
Yeah Mode
Professional Karaoke
Professional Loudspeaker
Protective Perforated Steel Grill
Tweeter1" X 2
Woofer 4" X 2
Subwoofer 15" x 2 (8 ohm)
Total Amplifier Power Consumption: 250 W
Frequency Response: 38 Hz-20 Khz (+ 3dB)
Line-In
Aux-In
AC 100/230V
Colors: Black
Master Carton Qty: 1
Master Carton Weight: 77 LBS
Master Carton Dimensions: 21.45x16x50.2
Gift Box Dimensions: 21.45x16x50.2
Unit Weight: 77 LBS
UPC: 6 06540 02956 5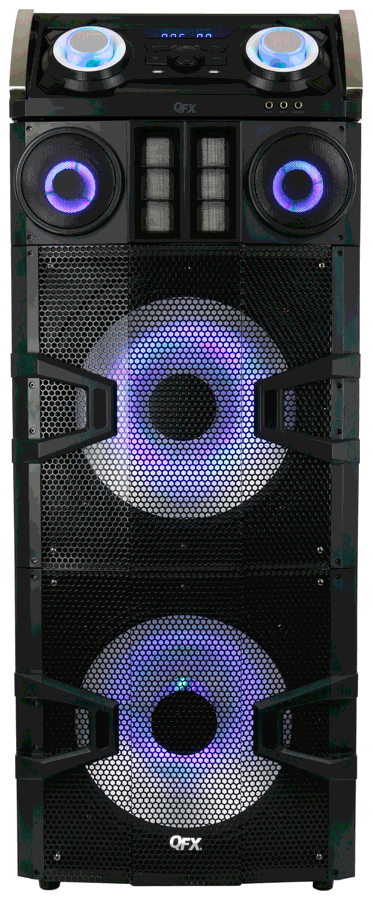 Date

October 13, 2011

Categories