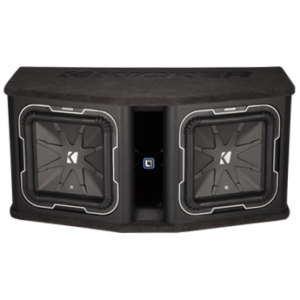 The KICKER® L7™ Loaded Enclosures are the ultimate expression of power and accuracy. This no-holds-barred approach to design and engineering earned the Q Class subwoofer a prestigious CES® Innovation Award.

An L7 at Heart
The legendary L7 subwoofer finds a new home in this monster mini-enclosure. Built to take gobs of power and keep on slammin', throw some serious amp behind it for huge bass.

Move the Air
Every KICKER L7 sub box gives you incredible bass, thanks in large part to unique port construction. Computer-optimized ports deliver the perfect amount of air to make the L7's sound every bit as good as they look.

Construction Zone
Heavy duty construction and internal bracing make the L7 sub enclosure perform at an elite level. This kind of performance only comes with the know-how KICKER brings to the table.